When im saw Hansel and Gretel firstime im 8 year old, im really excited with joy and specially Gretel, im think her so strong so amazing, like a hero and she was like my idol when im in that age.

This book was talk about an exquisite version of the classic retelling created by the master storyteller Michael Morpurgo. No child will forget the story of the witch, the crumb path, and the gingerbread house in the forest. Former child award winner Michael Morpurgo took the classic works of the Brothers Grimm to a new level, weaving a rich fairy tale about hunger and hope, cruelty and courage from these themes. I think we all know the story of Hansel and Gretel. They wandered in the forest and were caught by the witch living in the gingerbread house. In the adaptation of Michael Morpurgo (Michael Morpurgo), he moved the story a little bit, and added his own rotation to it to keep it up-to-date with the times for today's young children to appreciate. This book has a lot of text and pages, so it is not suitable for people who are just learning to read, but readers who already have a certain level should have no problem. This is also a perfect book suitable for reading together, a lovely bedtime story. Really fun while draw all five picture for this book with tear and deadline.
Basically i'm draw with passion of layout, how to tell a story with picture, AO, and brush on photoshop adobe. But im really learn a lot of about how to bring something in my art(it not easy to say the feeling while im finish this project), im would love to thanks to my sensei Nguyen Kim Duan for encouraging and helping me comeplete this project.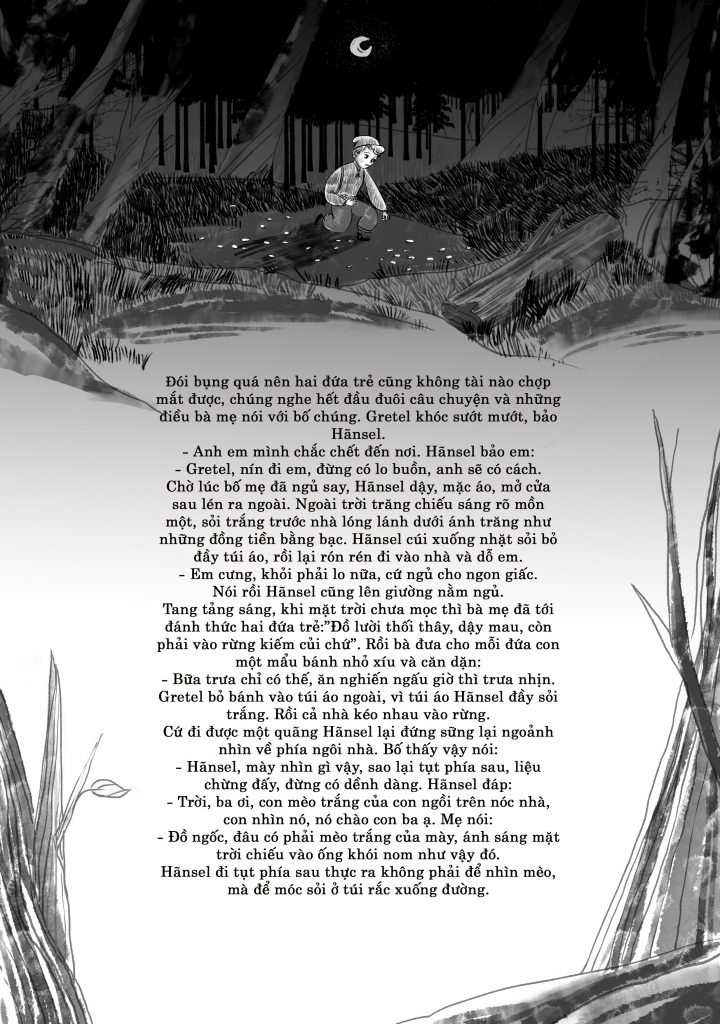 Chờ lúc bố mẹ đã ngủ say, Hasel dậy, mặc áo, mở cửa sau lén ra ngoài. Ngoài trời trăng chiếu sáng rõ mồn một, sỏi trắng trước nhà lóng lánh dưới ánh trăng như những đồng tiền bạc. Hansel cúi xuống nhặt sỏi bỏ đầy túi áo, rồi lại rón rén đi vào nhà và dỗ em.

- Em cưng, khỏi phải lo nữa, cứ ngủ cho ngon giấc.
Vịt ơi vịt nhỏ, vịt xinh
Làm ơn vịt cõng
Chúng mình sang ngang.
Hansel cùng với Gretel
Cám ơn vịt trắng
Không quên công này.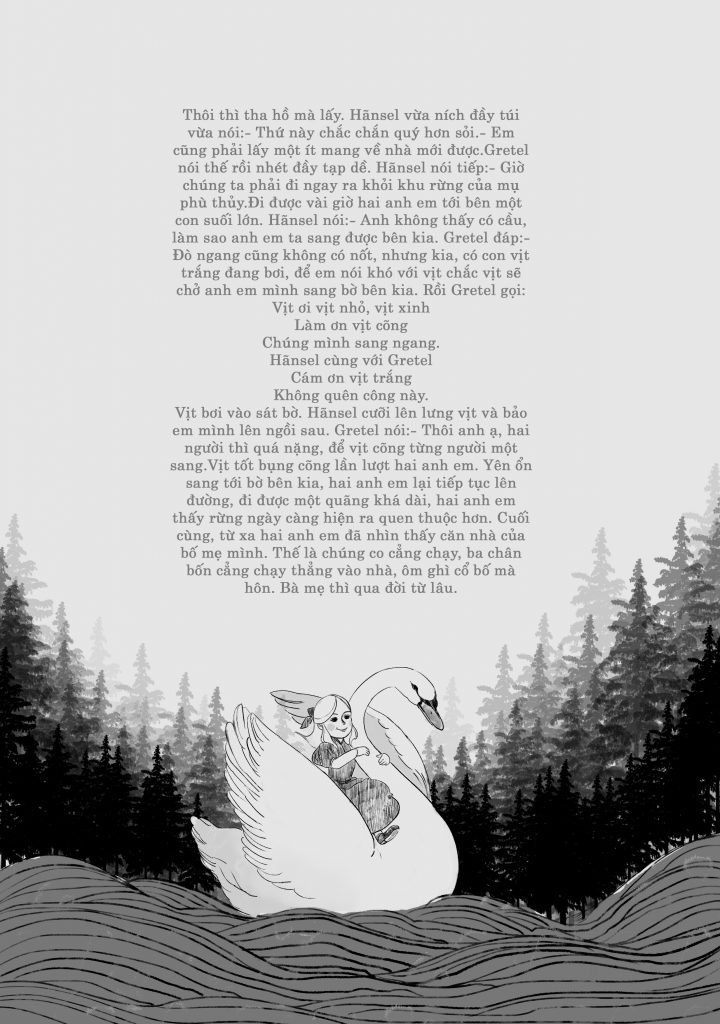 Hansel and Gretel was like horror movie to me but in good way Hasel and Gretel have happy ending so maybe this will be a great gift for older children, who have gone beyond the gentle and relaxed version of classic fairy tales and are ready to accept things that require more courage and courage.